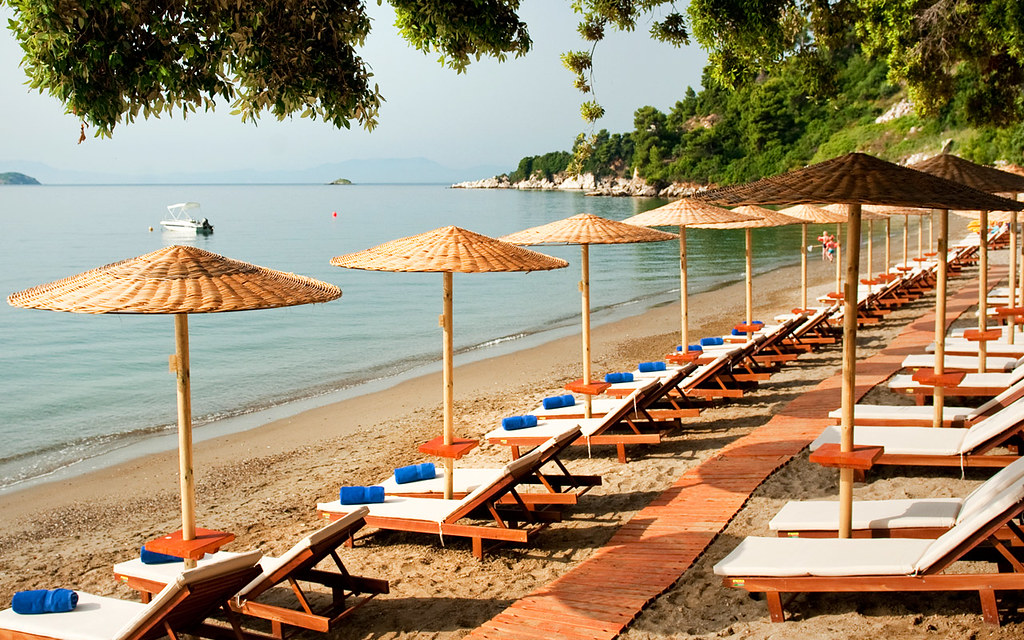 Located on the south coast of Skiathos, Vasilias is a popular tourist location due to its beautiful beaches and shelter from the winds. It would be the perfect holiday location for families or couples and is not far from Skiathos Town.
What Will You Find In Vasilias?
Starting with the real draw to Vasilias, the two beaches. The first known as Small Vasilias beach is not a particularly 'touristy' beach. You wont find beds or brollies, but will find peace and quiet away from the crowds of its sister beach.
Just a few steps from Small Vasilias you will find the picturesque Vasilias Beach. With beds and brollies to rent and tavernas lining the beach you will find the perfect place to site back and let the world pass you by. If you are looking for Water Sports or Boat rentals, you wont be disappointed.
Even though you are not in the main town of Skiathos you will still find a supermarket and selection restaurants in the village. However, being so close to Skiathos Town, and the bus service being pretty good you can always venture to the islands main hub if you fancy a bit more bustle.
Getting Around Skiathos From Vasilias
All of the main villages on Skiathos are situated on the south coast which has a great bus network. Vasilias is at stops 7 and 8. You can go East to Skiathos town, the trip taking just a few minutes or west towards Koukounaries, with lots to explore in between. A full ride to Koukounaries would take around 20 minutes.
Where to Stay In Vasilias
Vasilias would perfectly suit a family holiday, a romantic getaway or even someone who wants to be close to Skiathos Town, but not right in the thick on it. Vasilias also caters for any budget. If you are looking for luxury then you need to check out The Kassandra Bay Resort. A superb 5 star hotel with amazing view and on site spa. They offer Bed & Breakfast and a holiday to remember.
If you looking to spend a little less on a hotel to leave more money for Metaxa and Gyros then you may find the Vasilias Beach Hotel to your liking. All the amazing views and a more rustic feel of a family run hotel.