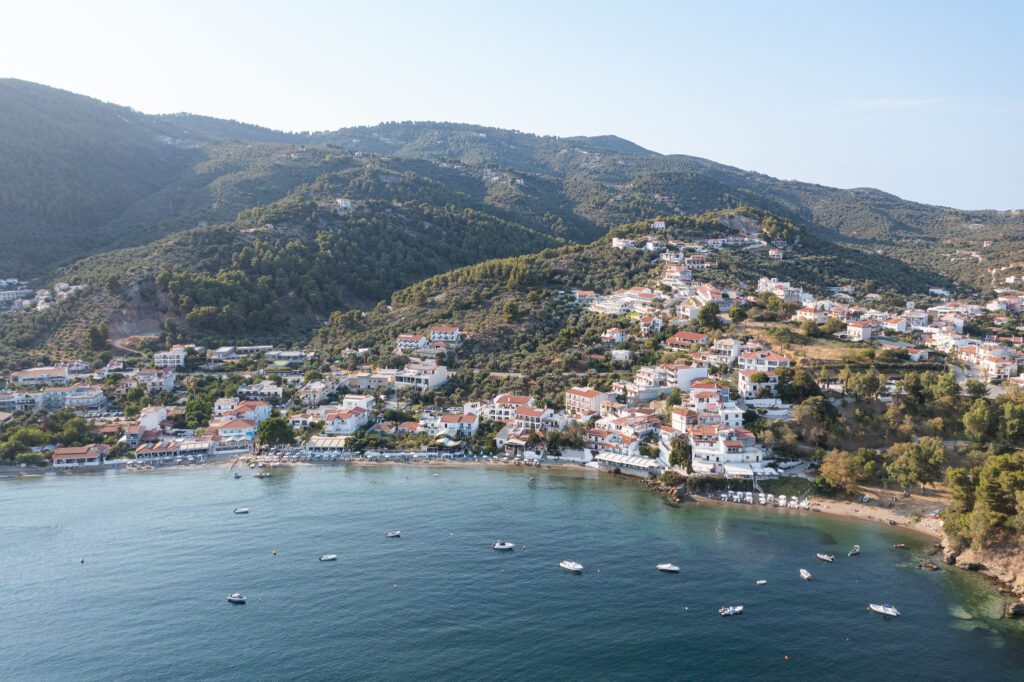 Megali Ammos is a very popular tourist resort in Skiathos due to its close proximity to the town and amazing beach along with crystal blue waters. It can get busy during high season but as a resort does offer a little more than some of the smaller resorts like Kolios.
What can you do in Megali Ammos
Lets start with the star of the resort, the Beach. Megali Ammos beach plays host to an array of water sports as well as boat rental. It is lined with bars and Tavernas and has bed and brollies for hire. It also has a full time life guard so is perfect for families. The beach is one of the stand out blue flag beaches on Skiathos so can get very busy.
The immediate area and village of Megali Ammos is fairly well built up for tourism with plenty of restaurants, tavernas and shops. If you are looking for a little more in terms of nightlife or shopping then Skiathos Town is actually within walking distance or a very short bus hop.
Getting Around From Megali Ammos
Megali Ammos does sit on the south coast of Skiathos and therefore on the main bus route. If sits on bus stops 4, 5 and 6. If you wanted to get a bus to town you can be there in minutes. The bus west to koukounaries would take around 20 minutes, but there are plenty of stops before that with plenty of beaches. You can also go down to the beach and rent a boat if you just want to do your own thing.
Where To Stay
With Megali Ammos being a bit of a tourist hotspot there is no shortage of places to stay. If money is no object then the only place to stay is the amazing 5 Star Agean Suites. It offers bed and breakfast and has everything you could possibly need including wellness centre, massages, spa as well as a bar and restaurant on site. They also organise fishing trips. It truly is a specular hotel with amazing views in a perfect location.
However, if you are just looking for a base of operations to explore the island then you may want to save money on accommodation to spend on ice cream. If this is the case then take a look at ACT Skiathos. Highly recommended on Trip advisor, this no frills option has just 8 rooms and has all the charm of a family run, personal experience. The rooms are clean and fit for purpose. In my experience of Skiathos you wont spend much time in your room anyway.