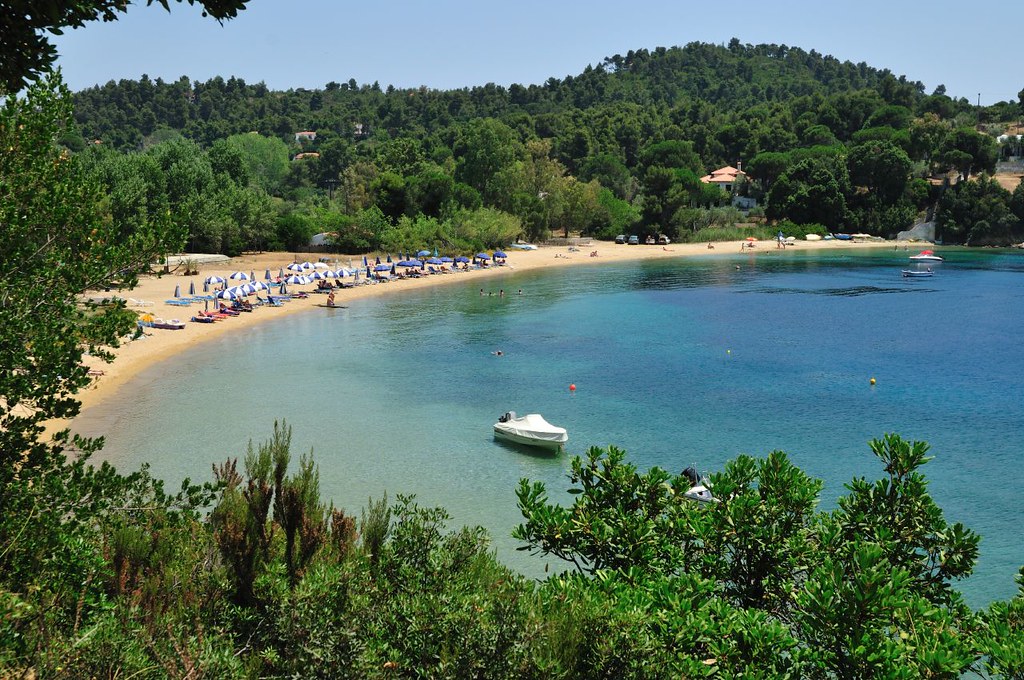 Kolios is a small tourist resort on the south coast of Skiathos. It is within walking distance of the resort of Agia Paraskevi. It is a quite resort and perfect for family holidays. It is beautiful tranquil place that exudes all the traditional Greek charm.
What Will You find in Kolios
Lets start with the amin attraction, Kolios Beach. The beautiful sandy beach at Kolios is a relatively thin beach that remains pretty quite all year round. You won't find Water Sports here, but if thats your thing then you can easily walk up to the larger Agia Paraskevi. However, on Kolios beach you will find some lovely tavernas and beach bars.
Kolios village itself is relatively small but does have a few good restaurants as well as a mini market for essentials. There is not much by way of a nightlife but for that you have a few options. Agia Paraskevi is a little more lively in the night or if you are looking for more then jump on the bus to Skiathos Town.
Getting Around From Kolios
With Kolios being on the south coast of Skiathos, it benefits from the South Skiathos bus. These buses are every 30 minutes during high season. Kolios is bus stop 15 of the route of 26. Going west to the end of line would get you to Koukounaries which would take around 10 minutes. If you go East then you will find Skiathos Town in around 15 minutes. However, pretty much any bus stop will drop you off at a beach to explore.
Where to Stay
There are several very good hotels in Kolios. For our first recommendation we have the Angelina Studios which comes very highly rated on Trip Advisor. This 4 star self catering options comes complete with an onsite bar/café and free Wi-Fi in the public areas. It is just 700m from the beach and offers beautiful views across Skiathos.
If you are looking to spend a little less on accommodation to keep to spend on Greek Coffee then you really should consider the Vista Mare. It sits just 600m from Kolios Beach and about 1k from Agia Paraskevi. The hotel itself is well presented and comfortable with its own pool and free Wi-Fi.