The middle of the 14th century saw the Mediterranean islands being harassed by pirates. To protect themselves the people of Skiathos relocated from the area of Skiathos Town to the North of the island. Kastro, the Greek word for castle, gave the people of Skiathos a fantastic defensive advantage as it is high above sea level and difficult to access. Kastro remained the capital city of Skiathos until the 1830's.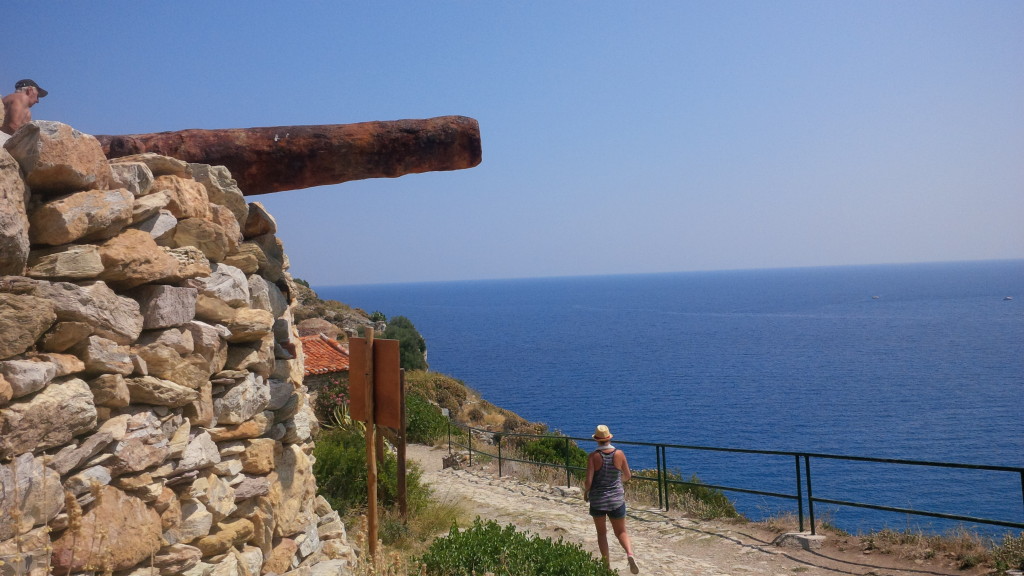 The picture above shows just how safe the people of Skiathos were during this time. Kastro was surrounded by cannons, many of which still remain, and if the attackers were able to find there way past the cannons, up the hills to the gates of the city, they would be met by boiling oil and arrows. There are many signs around Kastro to tell the story of this town.
Since Kastro was abandoned, it has started to fall into dis-repair. There are, however, a few buildings that remain. There are two churches which are pretty complete as well as one that is half ruined. The mosque can be seen but you can not go inside it. Below you can see some of the photos from inside the churches.
Although it is possible to drive to Kastro it is recommended that you rent a 4 wheel drive vehicle to do this. Another fantastic way of visiting Kastro is to do one of the round the island boat trips from Skiathos Town that will also stop at Lalaria Beach and normally on mainland Greece for lunch.
If you are heading to Skiathos on holiday I highly recommend the trip to Kastro. I personally think it is one of the most photogenic parts of the island. However, the walk up to Kastro is difficult, it is uphill on small paths as you can see from the picture at the top of this page. On the beach there is a snack bar for drinks and light snacks, it is not the cheapest on the island, but is cheaper than the drinks on the boats. If you are doing the walk take plenty of fluid and wear comfortable shoes, flip flops are not recommended.