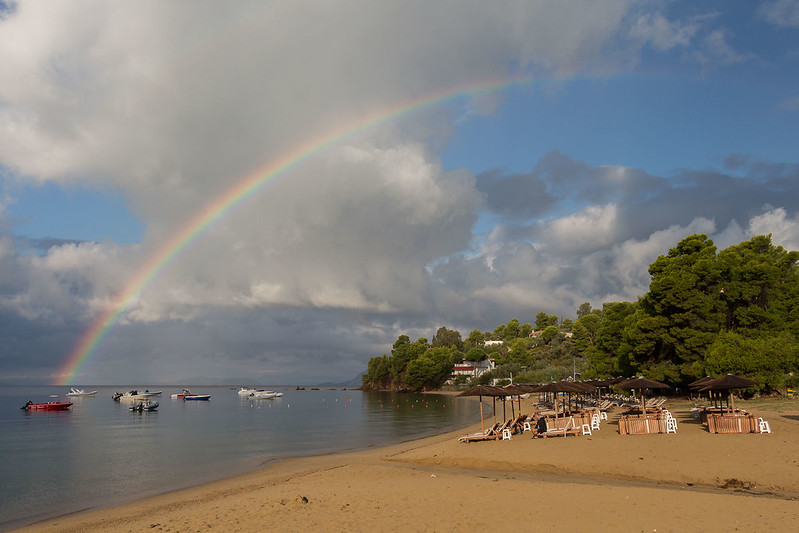 Troulous is a small resort located around the Beach that shares its name. It is on the South of the island of Skiathos, almost equidistant from Achladies and Koukounaries. It is a picturesque village perfect for family holidays.
What Will You Find In Troulos
Lets start with the main draw to Troulos which is the stunning beach. With its perfect cove like location it is mostly sheltered from any winds. The beach comes complete with Restaurants and tavernas so no need to venture to far if you don't want to. In addition to this, there is also Water Sports and boat rental if you do fancy some adventure. You will also find a night club if it tickles your fancy.
If Water Sports isn't your thing and you want to get away from the beach, there are a few really nice walks to Aselinos beach or even to the Mandrak area. If you are feeling like a real trek then you can walk up to the Skiathos Dog Welfare Association and take a dog for a walk. Be warned though it can take an hour to walk there.
Despite the village of Troulos being small, it has everything you may need during your stay. In addition to a selection of hotels, you also have many restaurants and also a supermarket.
How To Get To Skiathos Town
Troulos is on the main South Bus route. This means that getting to most of the island is very easy. Troulos is But stop 17. If you go west to bus stop 26 you will find yourself at Koukounaries, go East and you will terminate at Skiathos town. During high season buses are normally every 30mins, but can get very busy.
Where To Stay In Troulos
There are no shortage of place to stay in Troulos. If you want to stay right on the beach front then the three star Korali Hotel may be what you are looking for. It offers bed and Breakfast, fantastic views and very good facilities. However, a little further away from the, be it only 350m from the beach, you have the very highly rated (on trip advisor) Astoria Hotel. Again it offers Bed and Breakfast but its location is closer to the village and the shops.
Wherever you choose to stay, you are sure to have a great time in Troulos.